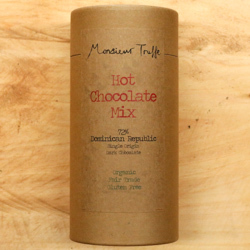 Monsieur Truffe Hot Chocolate Mix 500g
$24.95
Monsieur Truffe Organic Single Origin (Dominican Republic) 72% Dark Hot Chocolate Mix with real intense chocolate bits to melt. Great present idea for chocolate lovers.
*Vegan, Made locally.
This is not your average hot chocolate powder, but real bits of Mr Truffe chocolate to melt to make a real to die for (well, maybe not...) hot chocolate!
Makes a great gift idea too.
Ingredients:
Certified organic cocoa mass(Dom Rep), cane sugar, organic cocoa butter, vanilla extract.
May contain traces of nuts, dairy and gluten
Monsieur Truffe started as a 1 man operation at Prahran market. In 2008 the location was changed to Smith St Collingwood. In 2011 they relocated at 351 Lygon St Brunswick East, which was a much larger space. This allowed Monsieur Truffe to bring in chocolate making machinery so theycould transition from chocolate melters to chocolate makers. The factory space is shared under the one roof with the cafe East Elevation. Production is visible most days through the glass separating both business'.
Monsieur Truffe source the best ingredients and use organic ingredients for all labelled 'organic' products. Monsieur Truffe operates in an artisanal way, the chocolates are all hand made and hand wrapped. All products are using couverture chocolate (high in cocoa butter).
Made in East Brunswick from local and imported ingredients.