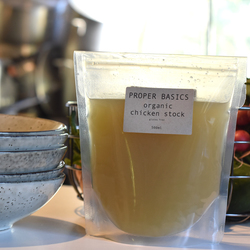 Proper Basics Organic Chicken Stock Salt Free 500g ml
$12.95
Home made from 100% organic ingredients & seasonal produce in the Macedon Ranges.
A real authentic organic stock with no nasties great on its own or for making soup, risotto etc.
Ingredients: filtered water, organic chicken bones, organic carrot, organic onion, organic celery, organic garlic SALT FREE
Size: 500g
Shelf life: Up to 4 weeks chilled.
Please refrigerate & consume within 3 days of opening.
The PROPER BASICS range of take home meals to "heat and eat", was imagined up after feeling there was a lack of good-for-you, organic, no nasties, PROPER take home food.
After 12 years of Organic food retailing and nearly 20 years in the Organic food industry, we've built ourselves a commercial kitchen space at our home in Victoria's Macedon Ranges.
Taking our own cooking advice and serving suggestions, we now cook for YOU weekly.
https://www.toms.net.au/proper-basics