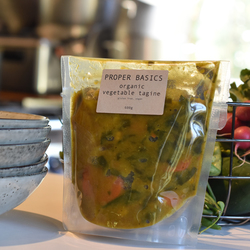 Proper Basics Organic Vegetable Tagine 600g
$14.95
ON SPECIAL DOWN FROM $15.95
Home made from 100% organic ingredients & seasonal produce in the Macedon Ranges.
Just re heat & serve with rice or couscous & crunchy greens or salad & feed the family in a flash!
Ingredients: Organic carrots, organic potato, organic pumpkin, organic onion, organic garlic, organic chickpeas, organic sultana, organic ginger, organic turmeric, organic cinnamon, organic cayenne, organic ras el hanout, organic kale, organic vegetable stock, salt & pepper

Size: 600g
Shelf life: Up to 4 weeks chilled.
Please refrigerate & consume within 3 days of opening
The PROPER BASICS range of take home meals to "heat and eat", was imagined up after feeling there was a lack of good-for-you, organic, no nasties, PROPER take home food.
After 12 years of Organic food retailing and nearly 20 years in the Organic food industry, we've built ourselves a commercial kitchen space at our home in Victoria's Macedon Ranges.
Taking our own cooking advice and serving suggestions, we now cook for YOU weekly.
https://www.toms.net.au/proper-basics