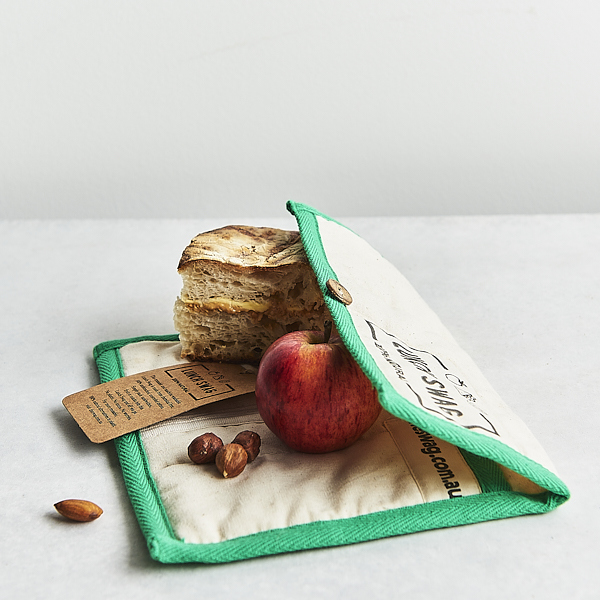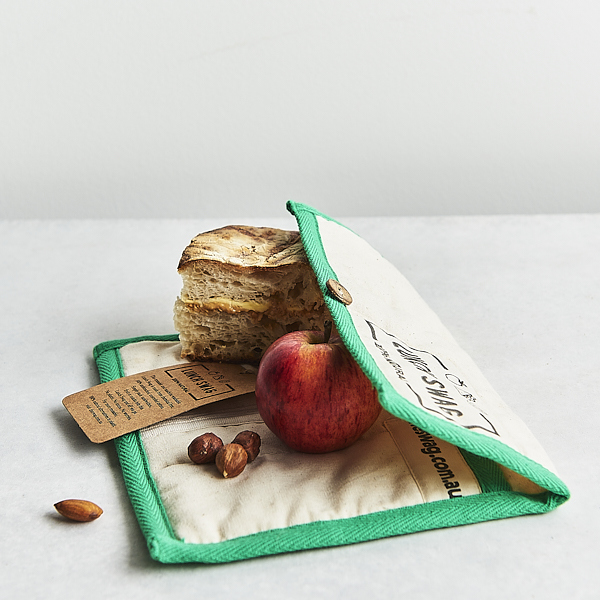 Down from $14.95
Reusable, machine washable Lunch Swag is made from chemical free, 100% unbleached, unseeded cotton. Great for packing sandwiches, fruit or snacks. Has a pouch for knives & forks or even a mini ice cooler.
100% Natural, No plastic, No toxins
Size: W: 17cm x H: 22cm.
Lunch Swag features;
colour coded trim
made form 100% unbleached, unseeded cotton
non toxic/chemical free
100% sustainable and compostable (apart from care label)
Ethically and Fair Trade produce (SEDEX)
a portion of the sale of this product goes to Destiny Rescue
How to use your Lunch Swags;
Pack sandwiches, fruit or snacks into your Lunch Swag. The Lunch Swag will also help insulate hot or cold food and has a nifty back pocket for a mini ice pack. When finished, turn inside out, empty crumbs and cold machine wash preferably with a plant based washing powder. Dry in full sun if possible. Then repeat!
The Swag is a non-toxic, environmentally-friendly, sustainable, machine-washable, breathable bag, meaning fruit & veggies stay fresher for much longer - naturally. So, it's great for your wallet and good for the environment too!
The Swag is made of three different layers (Australian Patent No. 2015221423 and International Patent(s) Pending). Each layer plays a significant role in keeping your fresh produce fresher for much longer! The outer layer of The Swag protects your sandwich, fruit & veggies, holds moisture and helps prevent the water in the middle layer from drying up. However, it's the other layers that make the difference. The thick middle layer absorbs and holds the water, almost like the inner layer of a baby's nappy, it draws the moisture away from the baby's bottom, or in this case, away from the fresh produce in your Swag. If too much moisture is up against your fruit & veggies - they'll rot quicker! The very inner layer, provides a dryer protection barrier whilst allowing your fruit & veggies to draw on air and water as they need. This keeps everything fresher and nutrient rich for much longer.
Each Swag is easy to clean and comes complete with coloured tags to help you identify what each one contains. We've designed The Swag to be better than the crisper in the fridge and much better than plastic bags. Aside from the eco-friendly, reusable aspects, our products actively work to pull moisture away from your vegetables to ensure they don't go soggy however give them everything they need to stay alive, plump and delicious for much longer.
Made in India.