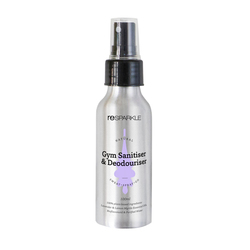 Resparkle Gym Sanitiser & Deodoriser 100ml
$8.95
Removes 99.99% of germs & eliminates odour, replacing it with refreshing Australian botanical scents of Lemon Myrtle, Lavender & Lemongrass. Use on yoga mats, gym equipment, shoes & even hands. Non-toxic. NASAA certified organic.
300 applications per bottle.
Alcohol-free & non-drying formula. Travel-friendly bottle. Plastic free.
Ingredients:
Bioflavonoid Complex, Organic Acid Blend, Aloe Vera, Purified Water.
Resparkle make all natural, concentrated, plant-based cleaning blends that are diluted at home in a reusable spray bottle. Founded in Melbourne as an affordable, low-packaging alternative to chemical-filled household cleaners, Pearl has created a range committed to effective and innovative products that contain NO Phosphates / Ammonia / Chlorine / Synthetic Chemicals
www.resparkle.com.au
Made in Australia.