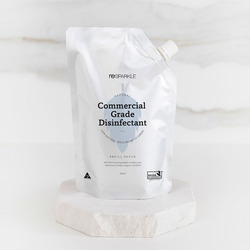 Resparkle Commercial Grade Disinfectant Refill Pouch 500ml
$8.95
This organic disinfectant utilises the power of citrus to safely remove germs from your home. Because Resparkle uses 100% plant based ingredients, there's no need to rinse, making this product both easy & safe. Lab tested to kill 99.99% germs. Non alcohol formula. Plastic Free. Cruelty Free.
100% plant based ingredients:
Purified water, Bioflavonoid complex, Organic acid blend.
Founded in Melbourne as an affordable, low-packaging alternative to chemical-filled household cleaners, Resparkle founder Pearl has created a range committed to effective and innovative products that contain NO Phosphates / Ammonia / Chlorine / Synthetic Chemicals
www.resparkle.com.au
Proudly made in Australia by a team passionate about healthy homes & clean planet.