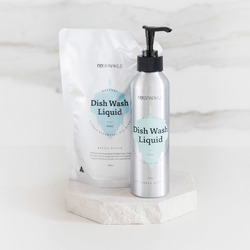 Resparkle Dish Wash Starter Pack (250ml alu bottle & 500ml refill pouch)
$10.95
An ultra concentrated formula, 100% natural & non toxic, it cuts through eve the toughest grease while remaining gentle on skin. Plastic Free. Last for a while as ultra concentrated.
100% plant based ingredients: Purified water, decyl Glucoside, Coco Glucoside, Gum, Citric Acid, Glyceryl Caprylate, Potassium Sorbate, Citrus Essential Oils.
Founded in Melbourne as an affordable, low-packaging alternative to chemical-filled household cleaners, Resparkle founder Pearl has created a range committed to effective and innovative products that contain NO Phosphates / Ammonia / Chlorine / Synthetic Chemicals
www.resparkle.com.au
Proudly made in Australia by a team passionate about healthy homes & clean planet.