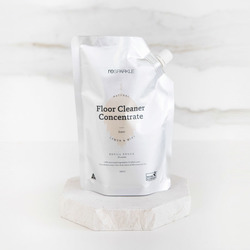 Resparkle Floor Cleaner Concentrate Refill Pouch 500ml
$8.95
Floor cleaners are some of the worst offenders when it comes to harsh chemicals. This 100% organic, super concentrated floor cleaner tackles toxic load, dirt & germs at the same time & infuses your home with a fresh zesty-mint scent. Totally plastic free packaging.
Powerful and effective cleaning abilities tackles dirt, marks, bacteria, leaving home floor surfaces so clean they squeak with approval. Safe to use on all surfaces (except unsealed Marble). This floor cleaner is made strictly from 100% natural ingredients, giving you the peace of mind that your floors are clean without leaving behind any toxic chemical residues.
Added essential oil blend of lemon and mint leaves a refreshing clean scent throughout the home.
100% plant based ingredients: Purified water, Citrus Bioflavonoid, Citric Acid, Lemon & Mint Essential Oils.
Founded in Melbourne as an affordable, low-packaging alternative to chemical-filled household cleaners, Resparkle founder Pearl has created a range committed to effective and innovative products that contain NO Phosphates / Ammonia / Chlorine / Synthetic Chemicals
www.resparkle.com.au
Proudly made in Australia by a team passionate about healthy homes & clean planet.