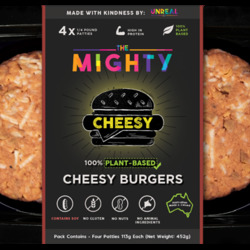 Unreal Co Mighty Burger Cheese (Pack of 4) 452g
$10.95
100% DELICIOUSLY PLANT BASED
The Cheesy Mighty Burger is a supercharged version of the Original recipe. Sure to satisfy the most discerning burger connoisseur. To retain max freshness product has been kept frozen, please do not refreeze.
INGREDIENTS
Water, Protein [Soy, Rice, Pea], Vegan Cheese [Water, Coconut Oil, Modified Potato Starch, Sea Salt, Modified Tapioca Starch, Vegan Flavour, Sorbic Acid, B-Carotene], Fat [Canola, Coconut], Starch [Corn, Tapioca, Potato], Nutritional Yeast, Chickpeas, Flavours [Salt, Garlic, Onion, Paprika, Oregano, Cinnamon, Parsley, Pepper, Fermented Rice Powder, Maltodextrin, Fibre [Bamboo, Methylcellulose], Gums [Xanthan, Guar], Colours [Beet]
NUTRITION
Per serve (113g) Per 100g
Energy 1146 kJ 1014.6 kJ
Protein 10.4g 9.2g
Fat (total) 16.6g 14.7g
Fat (saturated) 9.8g 8.7g
Carbohydrates 21g 18.6g
Sugars 2.2g 1.9g
Sodium 129.6mg 114.7mg
Fibre 3g 2.7g
UNREAL CO. is Australia's new designer of premium plant-based foods. The company was founded on the principles of compassion and sustainability; and is staffed by a passionate team that shares the same philosophy.
Unreal Co. belongs to a group of self-funded companies. We specialise in fast: research, development, prototyping and manufacturing, of allergen-aware and gluten-free plant-based
 foods.
We are leaders in the field of vegan food innovation. Our team consists of engineers, food scientists, artisans, marketers, and manufacturing specialists.
Our vision is big, and our goals are even bigger!
The founding members of Unreal Co. share a value system that has become the guiding ethos for the company. These values form the basis of our communications, marketing, and professional relationships.
- Compassion
Towards animals, the environment, the needs of our customers and their families. Genuine compassion will also be reflected in how we manage customer support
- Leadership
We aim to become leaders in the plant- based food industry. Market leadership, thought leadership, and social leadership are the driving principles behind our creations.
- Nourishment
The health of our customers comes first, always! Our products are designed to nourish adults and children alike. We stand behind our products and enjoy them regularly.
- Inspiration
Unreal Co strives to inspire customers to make the right changes for a healthier life, while contributing to making our environment a healthier place that we can share.
www.unrealco.com.au