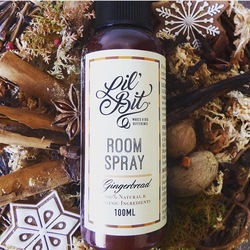 Lil'Bit Room Spray Gingerbread 100ml
$12.95
Gingerbread baking in the oven.
Lil'Bit Gingerbread natural organic room spray has been tried and tested on willing noses and the verdict is that it's a winner.
Ingredients:
ACO Certified Organic Witch Hazel, ACO Organic Glycerol / Glycerine Solubiliser (Palm Free), Demineralised Water, Organic Essential Oils including Zingiber Officinale Root (Ginger Root Oil), Cinnamomum Zeylanicum (Cinnamon Bark & Leaf Oil), Syzgium aromaticum (Clove Bud Oil), Myristica Fragrans Kernel (Nutmeg), Myroxylon Balsamum Pereirae Balsam (Peru Balsam), Citrus Aurantium Dulcis (Blood Orange Peel Oil) and the precious Vanilla Planifolia Fruit Extract (Mexican Vanilla Bean Extract).
Directions:
Shake and spray onto pillows, bed linens and into the air and doze of into the land of nod.
A Lil' Bit makes a big difference. For Founder, Liz, choosing to keep bees at their home on Phillip Island was a life-changing decision - falling in love with bees illuminated the broader and fragile ecosystem we are a part of, and the toxic effect on the natural world of unchecked and needless chemical use in our daily lives. Her Lil'Bit range of homemade, small-batch cleaning products are all created in her own kitchen, and proudly say no to a long list of nasties.
We're excited to share them with you - Find out more at www.lilbit.com.au
Made in Australia.