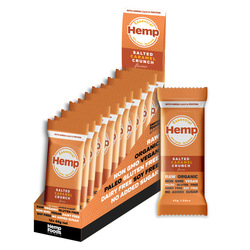 Essential Hemp Organic Snack Bars Salted Caramel 12 x45g VALUE BULK BUY
$49.95
Loaded with serious nutrients: omega 3,6,9 & minimum 5g protein & 20% hemp in every organic bar.
Raw, vegan & Paleo friendly, gluten & dairy free, non-GMO with no added sugar or preservatives.
A delicious nutritious snack anytime.
Ingredients: Dates, Hemp Seeds, Cashews, Coconut, Buckwheat Flour, Activated Buckwheat, Mesquite, Chia Seeds, Salt, Psyllium Husk Powder
Hemp Foods Australia is the largest Hemp Food Wholesaler, Retailer, Manufacturer and Exporter in the Southern Hemisphere. Hemp Foods Australia was Founded by Paul Benhaim in 2000. Paul became well known after starting the UK Hemp Industry in 1993 creating Europe's best selling Health Snack (9Bar) in the process. Located in pristine Bangalow on Australia's east coast Hemp Foods Australia's 11,000 sq ft facility is 100% Australian Certified Organic. They employ purely mechanical, low-temperature processes for everything they do resulting in the most nutritious products possible.
Hemp Foods Australia are Australian owned and operated and their management have over 3 decades of combined expertise in Hemp Foods. They have worked with many companies in the food industry and welcome enquiries from businesses looking to get involved with Hemp Foods and fibre.
100% Australian Certified Organic.