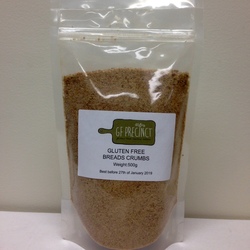 GF Precinct Bread Crumbs 500g
$5.95
ON SPECIAL DOWN FROM $7.95
Delicious & nutritious gluten free fresh bread crumbs, with buckwheat flour, chia flour besan flour as key ingredients.
Handcrafted locally in a completely gluten free bakery. Living proof that gluten free breads & crumbs can taste amazing! Australian owned.
Ingredients:
Buckwheat flour, chia flour, besan flour, potato starch, tapioca flour, brown rice flour, flaxseed flour, amaranth flour, olive oil, dried yeast, iodised sea salt, sugar, psyllium husk, vinegar, filtered water.
As artisan bakers, Gluten Free Precinct believe in producing breads that are delicious, healthy, natural and as fresh as possible. All their breads are handcrafted in their gluten-free bakery, ensuring that there is no cross-contamination from any products with gluten. Gluten Free Precinct breads are made from scratch, from their own flour mixes and recipes.
Enjoy their breads fresh or toasted. Gluten Free Precinct recommend that you keep them in the fridge. They also keep very well in the freezer. Same quality standards apply to those delicious & nutritious bread crumbs.
Freshly baked daily to order in Cheltenham,VIC.
Product Detail