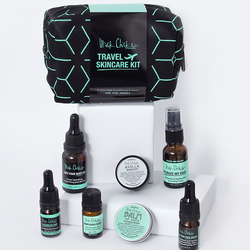 Black Chicken Remedies Travel Skincare Kit
$69.95
ON SPECIAL DOWN FROM $74.95
The ultimate 7-in-1 natural skincare essentials. For everyone who wants to arrive looking and feeling better than when they set out, these Black Chicken Remedies face and body products will keep you feeling fabulous from head to toe.
Whether you're crossing the globe or crossing the city, you'll love the mind & body benefits of our Travel Skincare Kit.
What's in it?
Cleanse My Face 5ml
 – deeply calming, aromatic oil cleanser.
Complexion Polish 5g
 – award winning exfoliator to remove toxins and refine skin.
Hydrate My Face 15ml – refreshing botanical toning mist.
Love Your Face Serum 5ml
 – super hydrating, deeply penetrating serum.
Balm of Ages 10g – 
multi-purpose natural balm soothes, heals and protects.
Love Your Body Oil 15ml – powerful surge of ultra-hydration.
Axilla Deodorant Paste™ 15g
 – super effective, long-lasting all natural deodorant.
NOW you can take your favourite remedies out on the road and rest easy that it is safely all contained in your BCR travel bag. You can also add some things of your own to make your travel toiletries complete
Made in Australia.
www.blackchicken.com.au