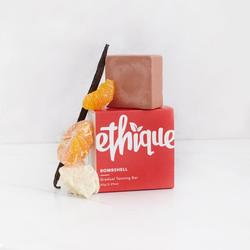 Ethique Bombshell Self Tanning Bar 65g
$34.95
The world's first (and only) solid self tanning bar. Perfect for light-medium skin tones, Bombshell will leave you with kissably smooth, golden skin with no streaks. Bombshell contains a bronzer for those who want instant gratification or just to see where you have been.
Bombshell is just as easy to use as a liquid tanner and works in the same way. Bombshell contains both two tanning agents for the perfect colour- no orange tones and no streaking, due to the magic of an ingredient called erythrulose.
Each bar is equivalent to one bottle of liquid tanner and comes in a box for easy storage in your bathroom. Scented with lime essential oil.
For best results exfoliate first and use gloves when applying. Colour develops from 4 hours and is complete at 24. It will last for up to 10 days if skin is kept hydrated.
Solid self tanning bar- no plastic bottles!
Get kissably smooth, golden skin for up to 10 days.
Cocoa butter, with jojoba and macadamia extracts for supple skin.
Ingredients:
Water (aqua), theobroma cacao, (cocoa) butter, ethyl macadamiate, jojoba esters, cetyl alcohol, dihydroxyacetone, stearyl alcohol, tapioca starch,olymethylsislesquioxane, helianthus annuus (sunflower) seed wax, erythrulose, polyglyceryl -4 - oleate, butyrospermum parkii (shea) butter, sodium lactate, lecithin, undecane and tridecane, citrus aurantifolia (lime) essential oil, benzyl alcohol, dehydroacetic acid, magnesium sulphate,(epsom salt), mica, iron oxides, citral, limonene, linalool.
Ethique (pronounced Eh-tique) is the French word for 'ethical' and we believe it is the first beauty company in the world to develop an entirely solid product range. All products are sold in compostable packaging, meaning zero consumer waste.
Ethique's dedication to sustainable beauty practices has prevented the manufacture and disposal of more than 150,000 plastic containers worldwide, and is driven by the hashtag #giveupthebottle.
From Brianne (Ethique founder):
Our Bars Really Work:
Our customers tell us the same thing again and again. You rave about how well our products work, far surpassing the quality of salon brands. Brianne explains that the reason for this is because the bars are super concentrated and made with potent natural ingredients. Our bars contain no nasties, they are cruelty free and vegan.
Saving You Money:
Solid bars last between three to six times longer (depending on the product) than bottled products because they're super-concentrated. You add the water not us, and yes our solid beauty bars foam.
Sustainable:
We use biodegradable ingredients and wrappers so our solid bars leave no trace on the planet. You can pop the compostable wrapping in your compost bin. No bottles, jars, lids or pump dispensers contributing to landfill or oceanic pollution.
We are certified climate neutral, cruelty free and a living wage employer.
Ethique is a certified BCorp- "B Corp is to business what Fair Trade certification is to coffee or USDA Organic certification is to milk."
Ethique was recognised as New Zealand's most sustainable business when awarded 'the Best in B' award for New Zealand in July 2015.
We have committed to donating 2% of revenue (or 20% of profit, whichever is highest) to charity.
We try to work directly with producers to ensure they are paid a fair price for their product, which in turn ensures they look after their community and their environment.
All of Ethique's products are New Zealand-made and manufactured in Christchurch.