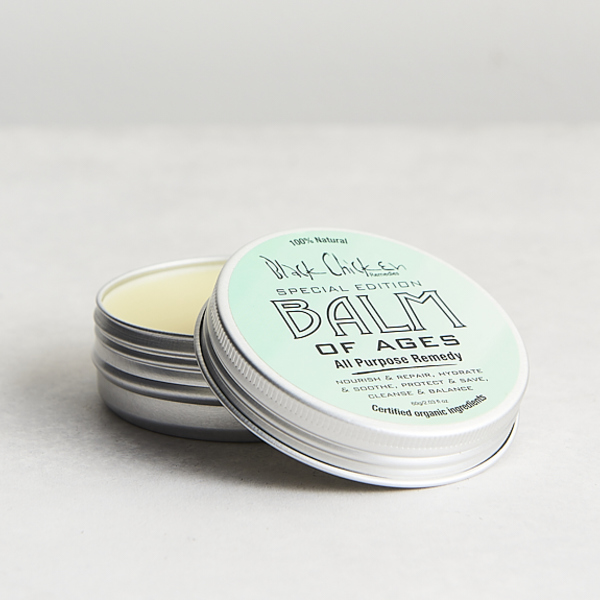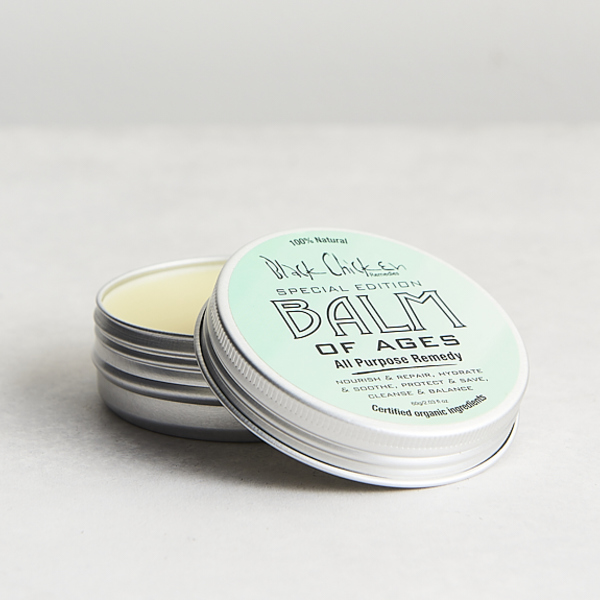 Black Chicken Remedies Balm of Ages Body Balm 60g CLEARANCE
Down from $44.95
An organic, multi-purpose balm for your entire body, blending 19 powerful, natural ingredients that aid in soothing, healing, hydrating, and repairing your skin and hair.
With 19 organic, restorative ingredients, this body balm is truly for the ages. Designed to soothe, nourish and protect, this skin remedy is perfect for use all over your body. Use it to treat scars, stretch marks, chapped lips or even to soothe sunburn, rashes and insect bites.
A range of powerful and restorative remedies all rolled into a single natural body balm
This organic body balm is the ideal item to throw in your handbag or car. Whether it's for everyday use or to ease the symptoms of skin conditions like eczema, you get
• A multi-purpose body balm that uses only natural and certified organic ingredients
• A remedy for all your skin concerns from chapped lips to scars
• No synthetic fragrances
• A product that is cruelty-free and contains no palm oil

Balm of Ages is temperature-sensitive and may soften or even liquefy in hot temperatures or become hard in very cold environments. This does not affect the power and efficacy of the product. Simply pop them in the fridge or a warm place for a few minutes to reverse this change.

Ingredients: Cananga Odorata* (Ylang Ylang essential oil), Vitellaria Paradoxa* (Shea Butter), Cocos Nucifera* (Coconut oil), Camellia Oleifera Seed oil* (Camellia Tea oil), Melaleuca Leucadendra*(Cajaput essential oil), Citrus Reticulata* (Mandarin essential oil), Pelargonium Graveolens* (Rose Geranium essential oil), Lavandula Angustifolia* (Lavender essential oil), Theobroma Cacao* (Cocoa Butter), Bees Wax*, Hippophae Rhamnoides* (Sea Buckthorn), Cannabis Sativa* (Hemp Seed oil), Santalum Spicatum* (Sandalwood essential oil), Mixed Tocopherols (Vitamin E), Simmondsia Chinensis* (Jojoba oil), Calendula Officinalis* (Calendula), Arnica Montana* (Arnica), Pogostemon Cablin* (Patchouli essential oil), Boswellia Carteri* (Frankinsence essential oil)
*Denotes organic ingredients.


Best before: 12 months from opening. 


About Black Chicken: Black Chicken is an Australian owned and operated, 100% natural skincare company that harnesses the power of nature to create remedial products - that means all their skincare has a therapeutic benefit. They don't care about beauty trends – they care about healthy skin, minds and bodies. If you're on the hunt for fruity fragrances or fantastical foams you won't find them at Black Chicken. They're in the business of helping your skin be the best it can be…naturally.
Produced on the unceded lands of the Eora People - Sydney