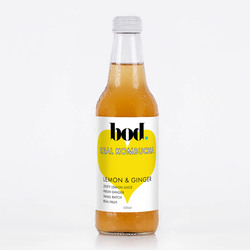 Bod Kombucha Lemon & Ginger 12x330ml
$49.95
A slow fermented, hand made organic live probiotic elixir!
Unpasteurised & free from artificial colours, flavours or preservatives. Real fruit juice & sometimes even the entire fruit is used.
Enjoy the fire of organic ginger paired with organic tart lemons, a classic taste! Made in Melbourne.
Ingredients:
Organic Kombucha (fermented using filtered water, organic raw sugar*, organic tea & kombucha culture), organic lemon juice(2%), organic ginger.
*please note that the sugar is consumed by the yeast & bacteria during the fermentation process.
Bod Kombucha is made with loving hands by Melbourne based company Bod Conscious Enterprises and is headed up by the duo behind Paleo Pure, Emma & Nicole.
Bod "booch" really loves your bod, but mostly it loves your gut.. to be more specific. Each bottle of BOD kombucha contains an army of live probiotics, ready to boost your immune system, aid digestion & energise you. By using a live SCOBY culture, which stands for "Symbiotic Community Of Bacteria and Yeast",fermented in organic tea, some with fresh fruit & spices, we are able to create a range of authentic tasting kombucha that is low in sugar but high on flavour.
Nicole & Emma, have a passion for bringing the most authentic gut friendly products to the market. Nicole, who is a practicing naturopath, sees the majority of her patients with gut related issues and believes that a state of wellbeing depends on ones gut micro-biome status.
Both Emma & Nicole are home brewers and enjoy kombucha daily.
Made in Melbourne.