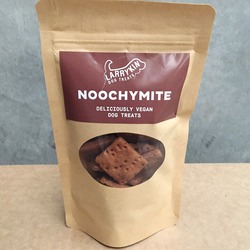 Larrykin Vegan Dog Treats Noochymite 125g
$9.95
Delicious vegan dog treats that the whole family can enjoy! Made with vegemite and nutritional yeast, these are so very, very tasty.
Ingredients:
Unbleached flour, vegetable oil, vegemite, nutritional yeast.
From maker Theresa:
"I've been baking dog treats for my family and friends for years now. They love them. I love them. You'll love them!
What's not to love? Made with top quality, human-grade ingredients my dog treats don't contain any artificial additives, preservatives or animal products. They taste great and are great for you too.
I'm often asked why I got into making dog treats. The answer is simply that every time I bought treats I'd have to spend hours googling the ingredients. Seriously, who wants to eat all those preservatives and artificial flavourings? Much better to eat Larrykin vegan dog treats, made from simple, wholesome, natural ingredients"
Home made in Melbourne.