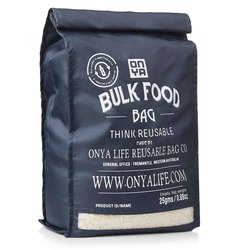 Onya's beautiful vintage style Large Reusable Bulk Food Bag has been designed to provide a convenient alternative for taking jars and containers to your local bulk food store.
It is also super handy to use when you would like to top up half filled containers at home. This means you no longer need to stock up on extra jars and containers on top of your current ones to use as "top up" containers, as all Onya bulk food bags give you a light and compact way to top up as you need.
Onya love diverting existing waste from landfill which is why their bulk food bags are made from BPA free, food safe recycled plastic drink bottles.
Each one of Onya's bulk food bag features the tare weight of the bag in both ounces and grams and they also have a clear window made of non-toxic, BPA & chlorine free PEVA. This window allows you to not only easily see what is inside your bag, but you can also write in that window the product, as well as any unique codes you may need when checking out. We recommend a coloured wax pencil or whiteboard marker only as permanent marker can be very difficult to remove. The window is especially helpful when distinguishing products such as Self Raising and Plain Flour that otherwise look identical.
The volumes of the bulk food bags vary dependent on what you are putting in them. For example a small bag of flour is going to weigh more than a small bag of corn chips, but to give a rough idea Onya have modelled the look of our Bulk Food Bags on the classic 1kg and 2kg flour bags with the large being able to carry as much as 5kg.
Features:
* Made from up to 4 BPA Free food safe 100% recycled plastic drink bottles
* 100% Recyclable & Sustainable
* Clear window made of non-toxic, BPA & chlorine free PEVA allows you to see what is inside and to write product name/codes
* Tare weight included on bag in grams and ounces
* Use bags as light weight top up solution for existing jars at home
* Large Bag Dimensions: 40cm long x 21cm wide with 10.5cm gusset
* 12 month Manufacturer's Warranty
Please note:
The goal for Onya reusable bulk bags is to be able help people easily and conveniently transport their bulk food purchases home. The bags have been designed as a lightweight top up tool to replace the need for carrying jars and canisters when doing your shopping, and when you bring them home you should empty the contents into your storage jars and containers.
Although made from recycled plastic drink bottles and technically plastic, the rPET material that makes Onya bags is woven in nature not solid state plastic like a single use plastic bag which is non-permeable for air and water.
Because of the woven nature of the fabric, a solid state plastic bag will definitely prevent air from reaching the bulk food products better than our bulk bags will when storing your bulk food products. Things like pasta hold well in them, but things that rely on freshness are better stored in an airtight container.
Onya bulk bags are definitely at their best when used to carry home your bulk food dry goods and transfer the contents into your bulk food storage jars and containers to ensure freshness.
A note on Onya packaging:
"Our commitment to sustainability extends to our packaging which is made from post-consumer recycled material and printed with water based inks so it is suitable for both recycling or composting"
Made in China to Onya's strict environmental standards.