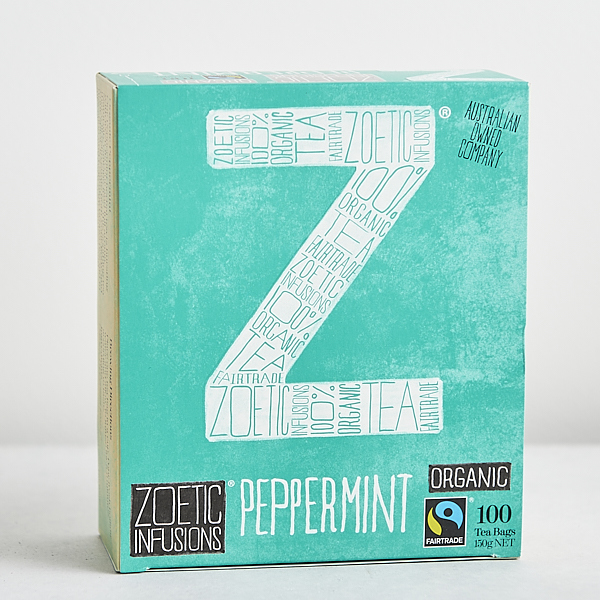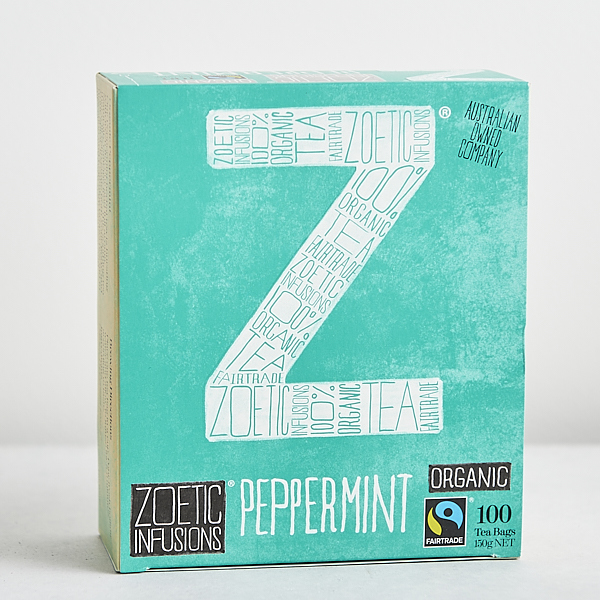 Zoetic Tea Peppermint 100 bags
Zoetic organic Peppermint Tea is bursting with fresh flavour and a full aroma. Naturally caffeine free, it is the perfect tea for day or night.
Tea bags, string & tag are compostable at home or in commercial composting facilities.
The tag is paper based using water based food standard inks, the string is cotton, and the tea bag material itself is cellulose (wood-pulp based fibre).
Ingredients: Peppermint leaves**Certifed organic and Fairtrade certified
About Zoetic: Zoetic Infusions are a range of premium Organic and Fairtrade certified teas. The teas are certified by IMO (Institute of Marketecology, the world leader in organic certification) and FLO (Fairtrade Labelling Organization, the main standard in Fairtrade certification worldwide).
• ORGANIC: An organic process means the tea is free of any chemicals, pesticides or synthetic hormones. This means a healthier and tastier cup for the drinker. Organic also means the tea is grown and produced
sustainably, with minimal impact on the environment.
• FAIRTRADE: The Fairtrade movement ensures decent working conditions for workers in developing countries and also invests directly in their communities.
• The teas are sourced from premium regions of tea from around the world.
• They are packed at the source to ensure maximum freshness.
Produced and packaged in Sri Lanka.