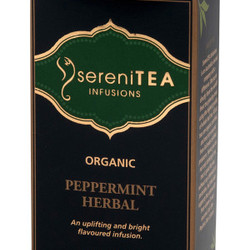 SereniTEA Tea Peppermint (Loose) 65g
$12.95
Peppermint tea is caffeine free and aids in digestion, nausea, headaches and allergies. SereniTEA Peppermint leaves are bursting with fresh flavour and a full aroma, brewing a minty full bodied cup with a strong finish. This tea is uplifting, refreshing and revitalising any time of the day or night.
Can be enjoyed as an iced tea with berries and cranberry juice or similar.
Ingredients:
Organic peppermint leaves
From SereniTEA:
SereniTEA Infusions started in late 2008 from an idea to create a brand that would promote peace and health in both the way it was sold
and inherently in the product itself. A tea concept was born that exemplified serenity for the body (tea as a calming beverage), serenity for
the environment (using an organic process) and serenity for people (sourcing Fairtrade certified teas). Australian owned and operated,
SereniTEA Infusions has quickly grown to be recognised as a leader in bringing Organic and Fairtrade certified teas to the Australian market
and international market.
Today, SereniTEA Infusions invites you to join our 'Positive Tea Culture,' where only the finest and most sustainable teas are enjoyed. We
invite you to learn, discover and enjoy our passion for teas and the process behind it.
At SereniTEA Infusions we believe in developing strong relationships in the supply chain. We source all of our products directly at the
plantation and producer level, avoiding brokering arrangements (the predominant source of supply in the global tea market). Following our
passion to find Organic and Fairtrade products, we insist on knowing exactly where our product comes from and how it is produced. Our
entire supply chain meets the highest standards of food safety standards.
Being a crop that is susceptible to seasonal change, SereniTEA Infusions places a large emphasis on our tasting and sampling process to
ensure our tea remains consistent across seasons. Our Master Tea Tasters put each batch of tea through rigorous testing to ensure the
quality and integrity of our product.
Produced and packaged in India.