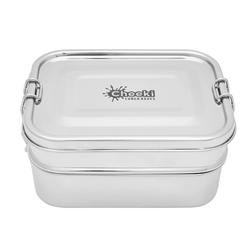 Cheeki Lunch Box Double Stacker 1L
$39.95
Cheeki's 1lt high quality stainless steel top selling lunch box. Ideal for school bags and office packed lunches. Note this container is not 100% leakproof.
Dimensions: 2 boxes of 17cm x 13cm x 8.5cm each
Robust.
Dishwasher friendly.
Easy open clips.
BPA Free.
Capacity: Top 500ml. Bottom 500ml.
Material: 100% Stainless Steel box and lid.
BPA Free box and lid.
No linings or paints used.
Dimensions: 17cm x 13cm x 8.5cm
Dishwasher friendly lid. Freeze with lid off to stop buckling. DO NOT MICROWAVE.
A word from Cheeki:
"Founded in 2009 on the shores of Freshwater, Cheeki is Australia's leading brand of stainless steel bottles, coffee mugs, food jars and shakers. Our bottles are available either insulated to keep your contents super hot or cold or single walled.
Our mission to create a healthy alternative to disposable plastic containers has lead us to design products that can be refilled, reused and recycled. Our premium grade stainless steel, zero toxicity paints and bright designs means Cheeki is a fun family favourite.
Own your own for life and help us build a cleaner, greener planet"
Made in India.