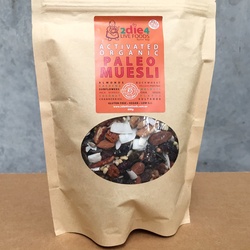 2Die4 Muesli Activated PALEO 600g
$24.95
Made to a traditional recipe found inscribed on a rock. Some say the recipe is over 10,000 years old!!! Try it, and none of that matters... It's tastes good. That's what really counts! Vegan.

Organic Ingredients:
Sunflower Seeds*, Buckwheat, Sultanas, Pepitas, Almonds, Cashews, Walnuts, Coconut Flakes, Pecans, Chia Seeds, Cranberries, Inca Berries, Certified Organic Australian Salt, Water.
*These sunflower seeds are organically grown, but are not yet certified organic.
Made on the same equipment as products containing whey and other nuts.
may contain shell.
2die4 Live Food's ACTIVATED nuts and seeds have been long-soaked in water, fresh whey and whole, raw Celtic sea salt. Presto! Fermentation has begun. The nuts are then long-dried (dehydrated, not cooked) at very low temperatures. This arrests, and does not kill the nutrient-enlivening transformation that takes place with fermentation, which simply re-ignites once the nuts are popped into the mouth.
Activated nuts and seeds become noticeably lighter, tastier, more nourishing, free of bitterness and markedly more-ish.
Made in Australia with at least 40% Australian ingredients.