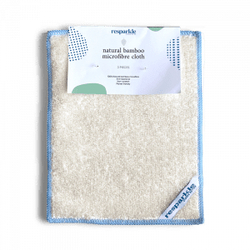 Resparkle Microfibre Bamboo Cloth (3 pack)
$9.95
100% natural bamboo micro fibres to effortlessly clean grease, picks up dirt and removes stains. Quality, thick cloths that you can use for a long time. Naturally anti-bacterial, ensures cloth stays hygienic and odour free. Non-scratch cleaning suitable for all surfaces.
It's been reported that plastic micro fibers are responsible for 85% of shoreline pollution across the globe. These bamboo replacements are a significant step in reducing marine pollution.
Ingredients:
Made from 100% Natural Bamboo Microfibre
Resparkle make all natural, concentrated, plant-based cleaning blends that are diluted at home in a reusable spray bottle. Founded in Melbourne as an affordable, low-packaging alternative to chemical-filled household cleaners, Pearl has created a range committed to effective and innovative products that contain NO Phosphates / Ammonia / Chlorine / Synthetic Chemicals
www.resparkle.com.au
Made in Australia.