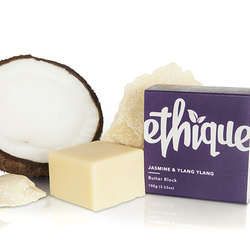 Ethique Butter Block Moisturiser Jasmine & Ylang 100g
$24.95
In keeping with all things solid, Ethique have made a world class body lotion into a divine buttery block. The butter blocks are made with 100% pure essential oils and butters, no fragrances.
Ethique use Organic Cocoa Butter from Ghana, Organic Coconut Oil from Samoa and pure essential oils to create a bar that is easy to use, supremely hydrating and fabulous for heels, elbows or anywhere else needing a little extra TLC. They have had people say it helps their eczema and it certainly helps with intensely dry skin along with being a great daily moisturiser from top to toe. Jasmine is referred to as the King of oils and it's not hard to see why. One of Ethique's most requested scents and blended with Ylang Ylang it is sweet, lightly floral and absolutely beautiful.
Best used straight after a shower on damp skin. **This product may soften or melt in transit over the summer months. If so, please pop in the fridge for 3-4 hours upon arrival for it to harden up.**
* Helps with intensely dry skin
* Made with 100% pure essential oils and butters
* Equivalent to three bottles of lotion (250ml each)
Ingredients:
Cocoa (Theobroma cacao) Butter, Coconut (Cocos nucifera) Oil, Caprylic/Capric/Stearic Glycerides, Candelilla Wax, Jasmine & Ylang Ylang essential oils, benzyl alcohol, dehydroacetic acid.
Ethique (pronounced Eh-tique) is the French word for 'ethical' and we believe it is the first beauty company in the world to develop an entirely solid product range. All products are sold in compostable packaging, meaning zero consumer waste.
Ethique's dedication to sustainable beauty practices has prevented the manufacture and disposal of more than 150,000 plastic containers worldwide, and is driven by the hashtag #giveupthebottle.
https://ethiquebeauty.com/
From Brianne (Ethique founder):
Our Bars Really Work:
Our customers tell us the same thing again and again. You rave about how well our products work, far surpassing the quality of salon brands. Brianne explains that the reason for this is because the bars are super concentrated and made with potent natural ingredients. Our bars contain no nasties, they are cruelty free and vegan.
Saving You Money:
Solid bars last between three to six times longer (depending on the product) than bottled products because they're super-concentrated. You add the water not us, and yes our solid beauty bars foam.
Sustainable:
We use biodegradable ingredients and wrappers so our solid bars leave no trace on the planet. You can pop the compostable wrapping in your compost bin. No bottles, jars, lids or pump dispensers contributing to landfill or oceanic pollution.
We are certified climate neutral, cruelty free and a living wage employer.
Ethique is a certified BCorp- "B Corp is to business what Fair Trade certification is to coffee or USDA Organic certification is to milk."
Ethique was recognised as New Zealand's most sustainable business when awarded 'the Best in B' award for New Zealand in July 2015.
We have committed to donating 2% of revenue (or 20% of profit, whichever is highest) to charity.
We try to work directly with producers to ensure they are paid a fair price for their product, which in turn ensures they look after their community and their environment.
All of Ethique's products are New Zealand-made and manufactured in Christchurch.