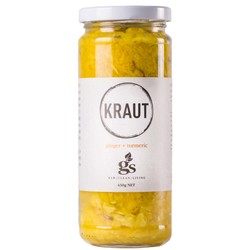 Green Street Kitchen Kraut Ginger & Turmeric-430g
$15.95
Green Street Kitchen Ginger & Turmeric Kraut mixes organic green cabbage with fresh ginger, fresh turmeric, juniper berries, native pepper & sea salt. Punchy sour flavour, fruity notes, a peppery undertone & loads of health benefits!
Ingredients:
Green cabbage(90%), fresh turmeric, fresh ginger, black pepper, juniper berry, sea salt.
Naturally Fermented
Sauerkraut originated in China, having been brought to Europe during the Roman Empire. Pickled or fermented foods like sauerkraut were very valuable in the era before refrigeration, as it allowed food to stay fresh during long journeys. Many people associate sauerkraut with Eastern European countries where it does feature heavily in certain dishes, but it is truly an international favourite and now becoming a staple of the western diet.
ABOUT THE FOUNDER:
"My journey in the food industry has been like many other chefs. I have travelled with my trade across the globe, working long days, and have found myself the victim of bad eating habits along the way - often not eating proper meals at the right time, drinking way too much coffee and enjoying a few too many alcoholic beverages. Over time my gut flora and overall health changed and I found I was unable to enjoy the foods I once had. I discovered fermented foods and their benefits at the beginning of 2014; from there I began to immerse myself in learning all that I could about good and bad bacteria and the effects certain types of foods can have on the body and overall gut health. I soon realised that I was not the only person suffering from bad gut health. I started producing my own ferments at home, realising the positive effects it was having on my own health, I decided I wanted to offer others the opportunity to eat my healthy & flavoursome creations- this was the start of Green St Kitchen"
Manufactured in Australia.