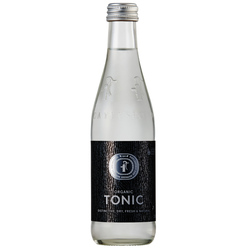 Daylesford Hepburn Springs Tonic Water 300ml x 24 VALUE BULK BUY
$59.95
Quite possibly the only organic tonic in the world, Daylesford & Hepburn Mineral Sprins Co. spent many months crafting what they think is one of the best tonic waters available. Their pure natural spring water provides the base and is the key ingredient in creating what is a very balanced tonic. They searched the world for individual citrus botanicals, and sourced natural cinchona bark from our grower to extract quinine, essential in delivering the tonic's trademark light bitterness. The perfect foil for your favourite mixed drink.
Ingredients:
Local natural spring water (carbonated), organic sugar, natural quinine from cinchona bark, natural flavour, citric acid.
Australian Certified Organic.
From the gracious gift of natural mineral water sourced from our spring in the idyllic Daylesford region (Victoria, Australia), the Daylesford & Hepburn Mineral Springs Co. crafts a range of balanced, considered drinks with pure flavours and ingredients that impart a story of their sense of place.
www.localmineralwater.com
Made in Australia from local and imported ingredients.