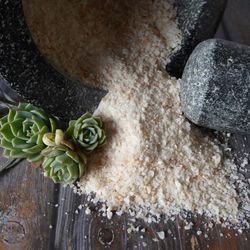 Lil'Bit Laundry Powder Coconut 1kg
$19.95
The coconuts used in this powdered soap are from an Organic and Sustainable source. Production is kept simple and pure; Organic Coconut Oil, Lye and Water - thats it! It is completely biodegradable, eco friendly, and dissolves easily.
Contained in a compostable, biodegradable ziplock bag within reusable environmentally friendly calico bag.
Coconut oil has natural soothing properties, and is ideal for the most sensitive skin as it does not contain anything to irritate the skin, cause allergies, or aggravate existing allergies such as dermatitis & eczema.
No fragrance,
No animal fats
No added enzymes
No phosphates
No fillers, acids and no sodium lauryl (SLS)
A Lil' Bit makes a big difference. For Founder, Liz, choosing to keep bees at their home on Phillip Island was a life-changing decision - falling in love with bees illuminated the broader and fragile ecosystem we are a part of, and the toxic effect on the natural world of unchecked and needless chemical use in our daily lives. Her Lil'Bit range of homemade, small-batch cleaning products are all created in her own kitchen, and proudly say no to a long list of nasties.
We're excited to share them with you - Find out more at www.lilbit.com.au
Made in Australia.