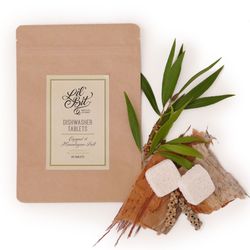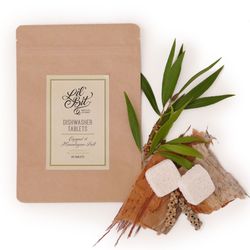 Lil'Bit Dishwasher Tablets pack of 20
Get 1 Lil'Bit hand sanitiser for free with every Lil'Bit purchase
These powerful Cajeput scented dishwasher tablets are made in small batches that clean your dishes while also deodorising your dishwasher. Non-abrasive and made from a blend of naturally occurring minerals and salts. What is Cajeput? Well, it's a wonderfully aromatic Australian Native oil that smells similar to Eucalyptus but a tad 'fresher'.
These tablets work wonders on baked on food - fill tray or pot with water, drop in a tablet and stand overnight.
**If you find that the tablets won't fit in your dishwashers tablet compartment, simply place it on the top rack and it will work just fine.
Ingredients:
Naturally Mined Organic Sodium Borate (USA), Naturally Mined Organic Calcium Sodium Carbonate & Sodium Chloride (USA), Naturally Mined Food Grade Himalayan Pink salt, 100% Natural Glacial Acetic Acid, Naturally Mined Organic Sea Salt, ACO Certified Organic Essential Oils including Cajeput (Melaleuca leucadendron).
Sceptic Tank Safe :)
Directions:
Add one tablet to the tablet compartment of your dishwasher and use as normal.
Hard Water Note:
If you have hard water, these tablets will clean and remove dirt and grease, however, your glasses will most likely have a few hard water spots and will not be 100% crystal clear. Add 1Tbsp white vinegar to the rise aid compartment as a rinse aid to help reduce spots.
A Lil' Bit makes a big difference. For Founder, Liz, choosing to keep bees at their home on Phillip Island was a life-changing decision - falling in love with bees illuminated the broader and fragile ecosystem we are a part of, and the toxic effect on the natural world of unchecked and needless chemical use in our daily lives. Her Lil'Bit range of homemade, small-batch cleaning products are all created in her own kitchen, and proudly say no to a long list of nasties.
We're excited to share them with you - Find out more at www.lilbit.com.au
Made in Australia.