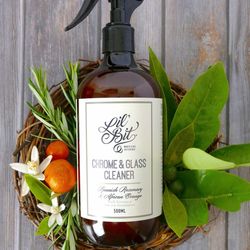 Lil'Bit Chrome & Glass Cleaner 500ml
$10.95
This Spanish Rosemary & Sweet Orange Chrome, Mirror and glass cleaner is made in small batches from a blend of natural and organic ingredients. Your shiny surfaces will be left streak free and clean as a whistle.
Spanish Rosemary has a softer, more menthol aroma and paired with Sweet Oranges will have you transported to the Spanish Countryside (well, we think so)
Ingredients:
Amylum Starch, Pure Isopropanol Alcohol, Certified Organic Acetic Acid, Demineralised Water, ACO Certified Organic Essential Oils including Spanish Rosemary (Rosmarinus Officinalis Leaf), Sweet Orange (Citrus Aurantium Dulcis).
Septic Safe :)
Directions:
SHAKE WELL - Ingredients can settle.
Spray on chrome, stainless steel, mirrors, glass and appliances. Use the microfibre cloth to wipe the surface. For mirrors and glass, spray on and immediately wipe until surface becomes clear (It can go slightly foggy - if this is the case, continue wiping)
This cleaner is even great on the inside glass of a wood heater!
Always conduct a test patch when using Lil' Bit products for the first time.
A Lil' Bit makes a big difference. For Founder, Liz, choosing to keep bees at their home on Phillip Island was a life-changing decision - falling in love with bees illuminated the broader and fragile ecosystem we are a part of, and the toxic effect on the natural world of unchecked and needless chemical use in our daily lives. Her Lil'Bit range of homemade, small-batch cleaning products are all created in her own kitchen, and proudly say no to a long list of nasties.
We're excited to share them with you - Find out more at www.lilbit.com.au
Made in Australia.