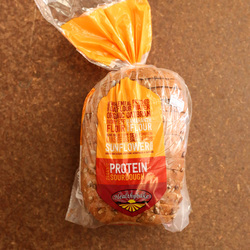 Healthybake Bread Protein Sourdough Sliced LOW GI 600g
$8.25
A delicious organic LOW GI loaf with nutritious protein rich seeds (like sunflower & pumpkin seeds, linseeds) & wholemeal oat flour & amaranth, ivory teff & soya flours. Nutritious & delicious.
Ingredients:
Organic Wholemeal Oat Flour, Filtered Water, Organic Oatbran, Organic Amaranth Flour (5%), Ivory Teff Flour (5%), Olive Oil, Organic Soya Flour, Sunflower Seeds, Pumpkin Seeds, Linseeds, Sea Salts, Sourdough Culture (Contains Acidophilus & Bifidus).

Contains Gluten
Yeast Free
Dairy Free
Certified Organic Flour
Egg Free
Vegan
From Healthybake:
"Healthybake is a family business established in 2001 with the vision of providing high quality organic baked products to the Australian and international marketplace.
The company's principle objective was to attempt to meet the increasing demand from a more informed public, with a range of food products that were free from chemical contaminants such as pesticides, herbicides, heavy metal residues etc.
With the above in mind we have developed a set of benchmarks that are standards we will not compromise on.
As an extension of our policy to use only certified organic flour in our products. We looked for alternative grains that did not have the inherent digestive problems that the extensively used common wheat grains had. This brought us to the decision to use the unhybridised and highly nutritious ancient grains such as Spelt, Khorasan and Oat in our products.
Our philosophy is to use only Australian grown ingredients where possible. All flour is milled to an exacting Healthybake specification and is batch tested by our in-house QA procedures.
We now have a unique range of organic wheat alternative products, but this was not the end of the story we needed to make our products taste great.
We achieved this with a combination of research, testing, using only the very best ingredients and many years of bakery experience and knowledge.
With an uncompromising policy of using only the very best quality organic ingredients, a total dedication to quality control through every step of our manufacturing process and the highly trained quality baking staff we believe we have achieved a range of products that are exceptional"
Baked in Victoria.