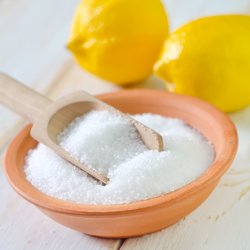 Reed Citric Acid - 1kg
$9.95
Use around the home for natural cleaning, some of its uses include
1. Remove stains and adhesives from stainless steel.
2. Kill bacteria, cut grease, and stains on floors, countertops, and tables. You can disinfect and clean kitchen countertops with a solution of nine parts water to one part citric acid.
3. Descale and disinfect inside of washing machine. In an empty washing machine, add two tablespoons of citric acid, use hot water, and run on the longest cycle.
4. Descale taps and shower doors, make a solution of one-liter warm water and two tablespoons citric acid. Make sure it is dissolved. Spray on let sit for five minutes and wipe clean.
5. Clean dirty windows, two liters of warm water mixed with two tablespoons of citric acid. Spray on and wipe off.
6. Get a sparkling clean toilet, take ¾ cup of citric acid and sprinkle into toilet. Leave in overnight. Do not flush. The next morning brush and flush.
7. Get rid of wine stains, with one part citric acid and 2 parts baking soda. Sprinkle over the stain; mist with water, until it fizzes, let sit for five minutes, and then scrub away
From the creator of Reed:
"My name is Nathalie (pronounced Natalie, my parents just decided to make my life difficult and shove a h in there) and I am the creator behind REED skincare. I'm also a wife and stay at home mum to two energetic boys and another little one on the way early Dcember. I have been making all natural beauty products since I was around 15 to use myself and to give to friends and family.
My vision for REED was initially all about recycling and repurposing items destined for landfill. While these are still priorities for me REEDs vision changed when I needed to make a new batch of soap for my family. I thought I should double the batch and see if any of my family or friends were interested in purchasing some handmade soap. From there REEDs pure, natural and handmade line of skin care and natural cleaning products was birthed and continues evolve"
Made in Melbourne.