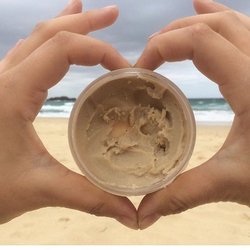 Reed Deodorant Paste 125g
$16.95
A beautiful deodorant paste with a shea butter base & lovely light scent that's easy to apply, absorbs really well into the skin & works all day long. Does not stain & invisible. No aluminium, no parabens, no artificial fragrances, no alcohol.
The bicarbonate and kaolin clay neutralises odour and draws out toxins.
Cornflour helps you feel dry throughout the day while still allowing your lymphatic system to do its job releasing toxins.
Mixed with moisturising oils and butters to soothe the skin, including Shea butter, coconut oil, vitamin e, glycerine and jojoba oil.
Reed only use pure essential oils that are highly regarded for their anti-bacterial, anti-microbial and anti-fungal properties.
To use apply a pea sized amount under each arm pit and rub it in.
Ingredients:
Shea butter, coconut oil, sodium bicarbonate, corn flour, kaolin clay, vitamin E, glycerine, jojoba oil, essential oils of peppermint, mandarin, clove, rose geranium, lime, Lavender, cedarwood, lemon myrtle, tea tree and eucalyptus.
From the creator of Reed:
"My name is Nathalie (pronounced Natalie, my parents just decided to make my life difficult and shove a h in there) and I am the creator behind REED skincare. I'm also a wife and stay at home mum to two energetic boys and another little one on the way early Dcember. I have been making all natural beauty products since I was around 15 to use myself and to give to friends and family.
My vision for REED was initially all about recycling and repurposing items destined for landfill. While these are still priorities for me REEDs vision changed when I needed to make a new batch of soap for my family. I thought I should double the batch and see if any of my family or friends were interested in purchasing some handmade soap. From there REEDs pure, natural and handmade line of skin care and natural cleaning products was birthed and continues evolve"
Made in Melbourne.