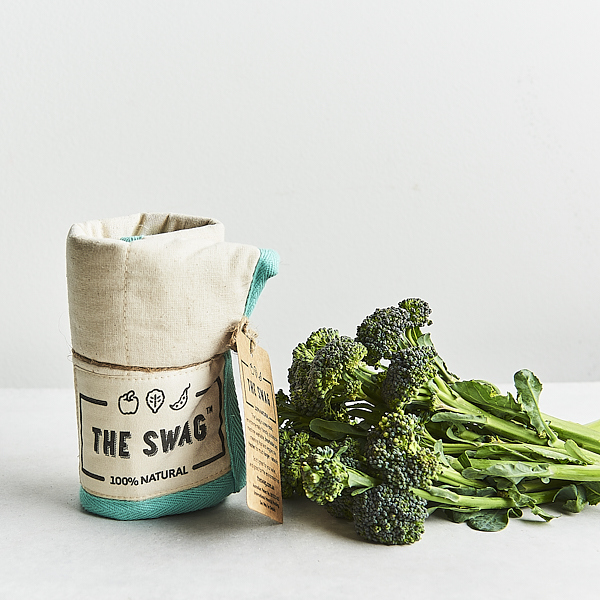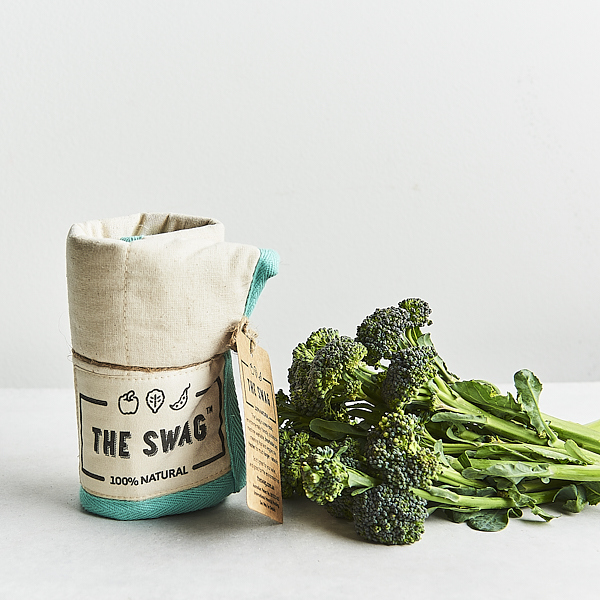 SWAG Produce Storage Bag Small
The Small Swag is perfect for smaller vegetables such as grapes, several bunches of herbs, lettuce, broccoli, cucumbers, tomatoes etc. You can have a combination of fruits, veggies and leafy greens in one Swag! The Swag keeps your fruit, veggies and leafy greens fresher for much longer – naturally! The Swag not only saves you money - it saves time! Less rummaging through your fridge and less trips to the shops!
Small Swag - Width: 37cm x Height: 38cm (opened up and including flap height) 37cm x 24cm not including the flap.
The Swag is an Innovative, Reusable, Fresh Produce Storage Bag that keeps Fruit & Veggies Fresher for Longer.
How long would you last sealed in a plastic bag or container without air or water? Not long right! Well, it's the same for all living things, therefore if you want your fruit & veggies to stay fresher for much longer, then you need to give them an environment they can thrive in.
The Swag is a non-toxic, environmentally-friendly, sustainable, machine-washable, breathable bag, meaning fruit & veggies stay fresher for much longer - naturally. So, it's great for your wallet and good for the environment too!
The Swag is made of three different layers (Australian Patent No. 2015221423 and International Patent(s) Pending). Each layer plays a significant role in keeping your fresh produce fresher for much longer! The outer layer of The Swag protects your fruit & veggies, holds moisture and helps prevent the water in the middle layer from drying up. However, it's the other layers that make the difference. The thick middle layer absorbs and holds the water, almost like the inner layer of a baby's nappy, it draws the moisture away from the baby's bottom, or in this case, away from the fresh produce in your Swag. If too much moisture is up against your fruit & veggies - they'll rot quicker! The very inner layer, provides a dryer protection barrier whilst allowing your fruit & veggies to draw on air and water as they need. This keeps everything fresher and nutrient rich for much longer.
Perfect For Storing a Wide Variety of Fruits and Veggies For a Lot Longer
The Swag will keep your food a lot fresher, saving you money and ensuring you and your family can enjoy healthy home cooking. With the price of fresh produce always seeming to increase, The Swag will ensure that you keep wastage to a minimum and make the most of every dollar you spend.
You will be able to successfully keep fresh a wide selection of produce, including:
- Lettuce, baby spinach and other salad leaves
- Berries of all types
- Mushrooms
- Corn
- Onions
- Sweet potatoes
- Broccoli
- Cauliflower
- Apples
- Carrots
And much more fruit and veggies.
Each Swag is easy to clean and comes complete with coloured tags to help you identify what each one contains. We've designed The Swag to be better than the crisper in the fridge and much better than plastic bags. Aside from the eco-friendly, reusable aspects, our products actively work to pull moisture away from your vegetables to ensure they don't go soggy however give them everything they need to stay alive, plump and delicious for much longer.
Made in India.