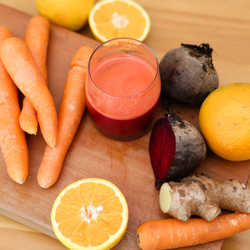 - Juice Me Up Box - Carrot, Citrus & Beetroot
$22.95
A mix of organic carrots, oranges, grapefruits, lemon, beetroot, ginger & turmeric ready for the juicer.
A great supplement to a clean eating lifestyle, loaded with vitamins & antioxidants.
You could add a dash of raw apple cider vinegar for an extra immune boost. The box makes between 2L to 3L of juice.
What's in the box this week
Beetroot, Carrots, Ginger, Grapefruit, Lemon, Oranges
Note: This is a general guide and box contents are subject to change due to availability