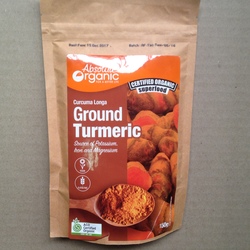 Absolute Organic Turmeric Powder 150g
$8.95
A member of the ginger family that has many uses from natural food colouring to ritual ceremonies and traditional medicine. In cooking it has an earthy fragrant flavour that supports and harmonises with other flavours within spice blends for which it is repetitively used. It can be used in laksas, stews, and vegetable dishes.
Also combines well with…. Cloves, Chilli, Coriander Seed, Fennel Seed, Ginger, Garlic, Cumin, Paprika, Pepper.
Ingredients:
100% Certified Organic Turmeric
Product of India.