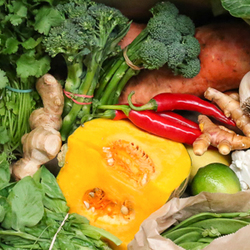 - Asian Cooking Box
$45.00
This box contains fresh organic produce to cook stir fries & curries – think lots of Asian & crunchy veg like pak choi, ginger, coriander, chilli and limes. Check "What's in the box this week" in red on this page for more info.
Suitable for 2 people for a week.
Our produce selection changes each week.
What's in the box this week
Beans, Broccoli, Carrots, Celery, Coriander, Ginger, Limes, Mushrooms, Onions, Pak Choi, Spring Onions, Squash
Note: This is a general guide and box contents are subject to change due to availability