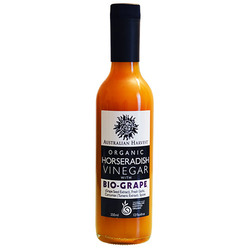 Horseradish Vinegar-350ml Aus Harvest
$18.95
An apple cider vinegar based salad dressing packed with healing herbs to treat the allergic symptoms of hayfever, sinusitis, colds & flu.
Australian Harvest have used a base of organic apple cider vinegar with organically grown herbs, horseradish and garlic plus a special combination of spices, including Curcurmax (a potent turmeric extract) to help treat the symptoms associated with hayfever, sinusitis, colds and flu.
Enjoy this herb vinegar on salads as a simple food or add it in to your daily regime to help reduce inflammation in your body. A teaspoon three times a day will help to treat your symptoms.
The naturally fermented apple cider vinegar base draws the flavours and therapeutic benefits from the herbs contained in the bottle. It has a zingy flavour that can either be used on its own as a salad dressing or form the vinegar base of a simple dressing with the addition of some organic olive oil.
Ingredients:
Apple cider vinegar*, fresh horseradish*, Bio-curcumin 95%(turmeric extract)*, garlic*,
Bio-cayenne(cayenne pepper)*, Bio-grape GSE(grape seed extract).
*certified organic
For treating hayfever, the recommended dose is 5ml, 3 times a day. Each bottle contains 70 doses, which is enough for 23 days if you take it continuously.
Hand made in Australia from local & imported ingredients.