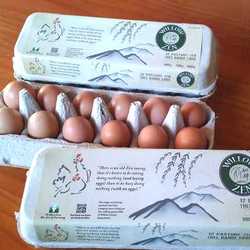 WillowZen Free Range Eggs -600g - 700g x 15 VALUE BULK BUY
$125.00
When Kelvin and Kumi came to live in Melbourne in 2003 after living in Asia and Europe in their early careers, one of the first places they visited was Ceres. Already interested in sustainable farming (but with no experience whatsoever), the visit to Ceres was a key motivator for them to set off on the path toward buying and building WillowZen.
WillowZen's Open Pasture eggs are grown based on many of the principles they experienced in their experience at Ceres.
WillowZen grow premium Authentic Free Range Eggs in Willow Grove, Gippsland. You will find the top quality eggs and be assured that their hens are living freely as they should be.
At WillowZen with around 3,000 hens, their stocking density rate is 130 hens per hectare. By comparison, many free range farms stock up to 10,000 per hectare (on WillowZen's farm that would be equal to 240,000 birds!).
This means the hens get fresh pasture every day. It also means the hens don't need to be de-beaked.
Protected by Maremma dogs and alpacas, WillowZen hens are free to range from movable trailers. They are free to be hens – to scratch, dust bathe and explore while eating pasture.
To support them in their laying, the hens are fed milled grain feed that has no hormones, artificial additives or colours.
Rest easy, following permaculture principles WillowZen haven't used any herbicides, pesticides, fungicides (or any other 'cides) on their pasture since buying their farm in 2006.
WillowZen is a family business that started in 2009. Together, Kelvin and Kumi Slade run a Pasture-Fed Free Range Egg Farm with the help of their boys.
Kumi and Kelvin have practiced permaculture on their farm since buying their land in 2006. They both live in a regenerative and sustainable manner working toward self-sufficiency from their farm. Farming 23 hectares, they are able to produce an excess of farming produce beyond their own requirements, which enables them to share high quality ethical produce with local and urban families.
Kelvin and Kumi have lived in Kumi's home country of Japan for five years in addition to living studying and working in China, Spain and the island nation of Samoa. Through this international experience they both realized in their late twenties that they wanted to grow food and raise animals in a regenerative and ethical manner. They chose Willow Grove in Gippsland for the location of our farm due to the rich soil, reliable rainfall and strong local community.
They currently nurture 3000 ISA Brown hens that roam from mobile chicken trailers. Increasing their flock size to meet growing demand for exceptional quality pasture-fed free range eggs.
In synergy with egg production they have also upgraded their vegetable garden using compost made from silage grown on the farm. Currently at around 50m2, they plan to expand the garden further this year to enable them to be mainly self-sufficient and grow produce for local farmers markets. More importantly, the vegetable garden is playing a great role demonstrating to their children the ins and outs of how to grow food and where food comes from. Each of the boys have their own plot, plant what they want to grow, care for their veggies and lead the harvesting.
Produced in Willow Grove, Gippsland.