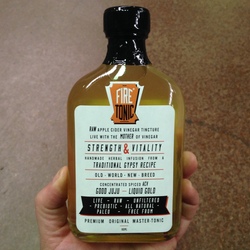 Hilbilby Fire Tonic 180ml
$21.95
Adapted from a traditional Gypsy recipe and handmade in Torquay (on the Surf Coast), Fire Tonic is a raw, unfiltered apple cider vinegar (ACV) tincture, alive with the Mother of Vinegar.
This herbal infusion is a potent immune booster and metabolic stimulant and is recommended as daily health tonic 10ml - 15ml 1 - 3 times per day.
This 'liquid gold' is a great way to kick start everyday and keep on top of whatever ails you.
Ingredients:
ACV, raw local honey, chillies, turmeric, garlic, horseradish, ginger, carrot, celery, red onion, brown onion, apple, orange, lemon, mustard seed, parsley, rosemary, oregano, thyme, juniper berries, peppercorns, bay leaves, Szechuan pepper & Himalayan pink mineral salt.
*many of the ingredients are organically grown at Hilbilby HQ with others sourced fresh locally where possible, each with its own medicinal, health and healing properties.
Hilbilby Cultured Food is a small family business, specializing in LIVE RAW fermented food, handmade with care in Torquay Victoria. Hilbilby products are made in small batches and use local, fresh organic ingredients as seasonally available. Old school, new breed, they are good for your gut!
Hand made in Torquay, VIC, Australia.