Bio Buttery 300g
Price: $5.95
Out of Stock
Shopping Cart
Empty
Total Items: 0
Total: $0.00
Checkout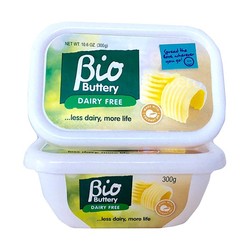 A new dairy-free butter spread made with coconut oil. Spread the love wherever you go!
Ingredients:
(All from vegetable sources) Canola oil, water, coconut oil, salt, emulsifiers (471(non-palm), sunflower lecithin), vegan flavour, vitamins D, E.
MyLife Bio products are produced with 100% dairy free ingredients and do not contain lactose, whey or casein. They are suitable for a vegan diet, individuals that are lactose intolerant and anyone simply looking for less dairy in their lives.
Gluten & Soya Free
Cholesterol Free Oil
Lactose Free
Ideal for baking
Palm oil Free
No GMO
Faith Based Fasting
Nut oil free
Artificial additive free
Salt reduced
Contains vitamin D & E
Made in Australia from local & imported ingredients.