Cashew Cheese Mushroom-210g BC
Price: $14.95
Shopping Cart
Empty
Total Items: 0
Total: $0.00
Checkout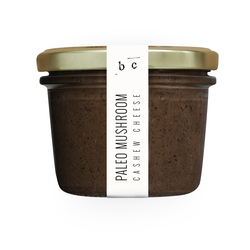 A classic marriage of warming winter flavours. Earthy, peppery, grounding.
A slightly adapted version of Botanical Cuisine's original decadent pate, this time the "paleo mushroom" comes in the form of a cheese.
It contains a mix of local swiss browns and Italian varietals (Wild, Porcini) and fresh truffle from Tasmania.
Ingredients:
Activated cashew (50%), spring water, olive oil, Swiss mushroom (10%), lemon, Tasmanian truffle, pink lake salt, culture.
Botanical Cuisine is a Melbourne based company encompassing botanical cuisine in an organic raw vegan plant-based product range.
Organic, raw & handmade in Melbourne.