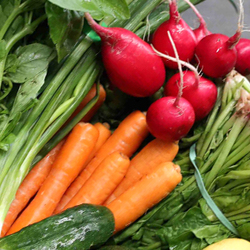 - Big Salad Box (Hear me raw)
$40.00
A box full of delicious fresh organic veg & salad & occasional fruit suited to making a salad.
Full of "salady" organic goodness you can eat raw! Check "What's in the box this week" in red on this page for more info.
Suitable for 2 people for a week.
Our produce selection changes each week.
What's in the box this week
Avocado, Beetroot, Carrots, Celery, Lemon, Lettuce, Mushrooms, Radish, Spring Onions, Tomatoes
Note: This is a general guide and box contents are subject to change due to availability