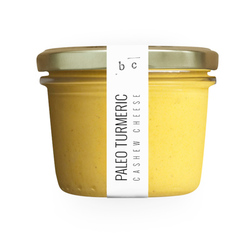 Botanical Cuisine Cashew Cheese Turmeric - 295g
$14.95
ON SPECIAL DOWN FROM $16.95
Delicious & nutritious organic vegan spread. The sumac & fresh turmeric create a tangy, sweet & savoury marriage. sealed with premium olive oil on top to keep it fresh.
Handmade in Melbourne, organic, local, raw, vegan & alive!
Ingredients:
Activated raw macadamia (40%), activated raw cashew (15%), spring water, olive oil, fresh turmeric (2%), pink lake salt, sumac, black peppercorn, culture (organic)
Botanical Cuisine is a Melbourne based company encompassing botanical cuisine in an organic raw vegan plant-based product range.
Organic, raw & handmade in Melbourne.