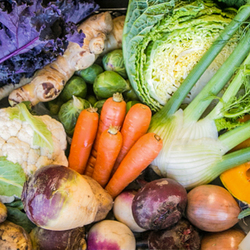 - Veg Only Box (Larger Size)
$60.00
This large Veg Only box is chocked full of market fresh organic veg & salads . Great for serious veggie lovers. You can easily top up with the fruits you need in our fruit section.
Check "What's in the box this week" in red on this page for more info. Suitable for 3-4 people per week.
Our produce selection changes each week.
What's in the box this week
Amaranth, Broccoli, Carrots, Celery, Dill, Kale, Leek, Lemon, Lettuce, Mushrooms, Onions, Potatoes, Pumpkin, Spring Onions, Tomatoes
Note: This is a general guide and box contents are subject to change due to availability