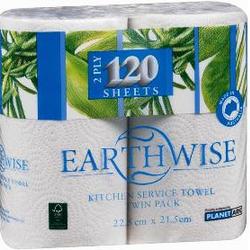 Earthwise Kitchen Paper Towel 2 Rolls x 10 Pack VALUE BULK BUY
$39.95
Encore Tissue is a manufacturer of toilet tissue and kitchen towel with manufacturing facilities located in Melbourne, Australia. They believe it is important to support Australian industry and buy through Australian suppliers. Encore Tissue is Australian owned and manufacturers locally; they are committed to investing heavily in the Australian market.
Encore Tissue is committed to achieving sustainable economic growth that is of benefit to present and future generations, without threatening the resources or biological systems of the world in which we operate.
Encore Tissue have implemented measures, including FSC® and PEFC duel certification for their mills, that ensure only fibres from responsibly managed forest sources are used in their paper production.
Efficient Water Use:
Water is a key resource in paper manufacturing and trying to reduce our water usage has been a key project for Encore Tissue. Since commencement, the amount of water used per tonne of paper manufactured has reduced by 65%. This has been largely due to reusing and recycling of water within the manufacturing process.
Certifications:
Encore Tissue's fibrous raw material is sourced from sustainable-managed plantations and regrowth forests. The fibres are sourced from local and International suppliers who practice sustainable management of forests in line with strict international standards. All suppliers operate under Forest Stewardship Council accredited environmental systems and practices.
Encore commitment to sustainability is shown by our other commitment to international forestry certification such as the programme for the endorsement of forest certification. These certifications act as a mechanism for protecting valuable forestry resources.
Sustainability is critical to Encore's business and customers can have complete confidence in the products they buy, that the origin of the materials used and the methods of manufacture are from a sustainable source.
Made in Australia.