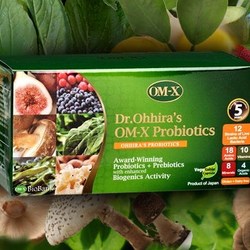 Dr Ohhira's Probiotics - 60 Caps
$59.95
OM-X is a unique formula that contains a wide range of 12 different lactic acid bacteria as well as 14 natural plant ingredients. OM-X is manufactured over more than a 5 year period and undergoes a fermentation and maturation process.
This unique manufacturing process means that OM-X is stable at room temperature without refrigeration. In addition, OM-X contains many vitamins, minerals, amino acids and organic acids which are released or created during fermentation.
Benefits:
*After antibiotic treatment.
*Supports general digestive function.
*After completing yeast imbalance products.
*Helps to restore a healthy balance of good bacteria and balance the digestive environment.
*Helps to supports the immune system - such as during winter and when a bacterial infection is present.
*May assist with Helicobacter pylori infections and may assist against methicillin-resistent Staphylococcus aureus.
Ingredients:
Probiotic blend: Bifidobacterium breve ss. breve, Bifidobacterium infantis ss. infantis, Bifidobacterium longum, Enterococcus faecalis TH 10, Lactobacillus brevis, Lactobacillus acidophilus, Lactobacillus bulgaricus, Lactobacillus casei ss. casei, Lactobacillus fermentum, Lactobacillus helveticus ss. jugurti, Lactobacillus plantarum, Streptcoccus thermophilus
Other ingredients:
Sugars (molasses/oligosaccharide), prune, Japanese mugwort, Chinese matrimony, shiitake mushroom, mustard spinach (komatsuna), fig, blueberry, Chinese bayberry, yuzu (citron), agaricus mushroom, dancing mushroon (maitake), hijiki seaweed, wakame (brown seaweed), Konbu (kelp), safflower oil, ground shell, Vitamin E contained vegetable oil, glycerin fatty acid ester, bee wax, lecithin.
Vegetable capsule contains: starch, glycerin, carrageenan and caramel.
Product of Japan.