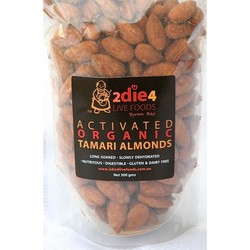 Almonds Tamari Activated - 250g
$17.95
2die4's Activated Organic Tamari Almonds are made using the finest Australian Almonds and Premium Tamari made in the USA.
WARNING: One handful is never enough!
Almonds have the most nutrients in them of any nut. They are a powerhouse of minerals, quality fats, heart-friendly and weight-friendly nutrients.
2die4 Live Food's ACTIVATED nuts and seeds have been long-soaked in water, fresh whey and whole, raw Celtic sea salt. Presto! Fermentation has begun. The nuts are then long-dried (dehydrated, not cooked) at very low temperatures. This arrests, and does not kill the nutrient-enlivening transformation that takes place with fermentation, which simply re-ignites once the nuts are popped into the mouth.
Activated nuts and seeds become noticeably lighter, tastier, more nourishing, free of bitterness and markedly more-ish.
The Sweet Almond ( prunus dulcis ) figures prominently in the cuisines of nearly every country in the Middle East and Mediterranean. While the trees are grown today around theworld, they most certainly originated in the Levant (SW Asia), where they are among the oldest known cultivated nut trees. 
Grown in Australia.