*Filter Replacements x 3
Price: $11.00
Shopping Cart
Empty
Total Items: 0
Total: $0.00
Checkout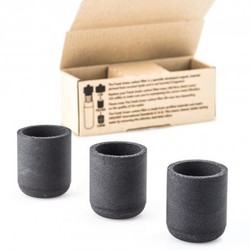 Coconut husk filter removes chlorine and organic impurities.
Frank Green are seriously sustainable! They're on a mission to change the way people think about reusable products. They achieve this by creating innovative, stylish and functional products that 'do the right thing' by the planet.
Reducing their footprint and being sustainable is at the core of the Frank Green culture and community. It's the right thing to do – and it mutually benefits business, the community, and planet Earth.
They're committed to:
Designing, engineering and making their products in Australia;
working with eco-responsible local suppliers and running an ongoing program to limit their manufacturing footprint- they believe it will cost less – financially and environmentally; conserving resources when producing their products. How? By using fewer raw materials, creating less packaging, recycling our waste, and reducing energy output. Limiting printing and/or packaging. If they do need to print, they use carbon-neutral printers with recycled paper and eco-friendly inks; reducing, reusing and recycling everything they can; being open, honest and transparent when communicating with customers, suppliers, stockists, partners and government contacts.