Feeling Good Tibicos 'Menage A Trois' 1lt
Price: $18.95
Out of Stock
Shopping Cart
Empty
Total Items: 0
Total: $0.00
Checkout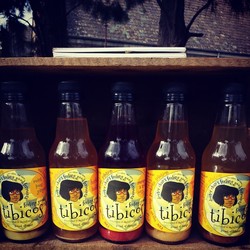 A detoxifying, iron rich blood cleanser with an earthy zing, Potent antioxidants and nutrients shown to reduce heart disease and lower blood pressure, increasing energy levels and improves performance with high nitrite levels. Cleans the blood via action of Vitamin A and other nutrients on the liver. A PERFECT CLEANSING TRIO!
*NB Fizziness is not an indication of efficiency of the probiotic and varies between bottles as they are not artificially carbonated.
Ingredients:
Lovingly cared for Tibicos SCOBY, Daylesford mineral & rainwater, certified organic coconut sugar, certified organic raw cane sugar, certified organic lemon, certified organic figs & certified organic cold pressed ginger, beetroot & carrot juice.
Doctor Chan's Feeling Good Ferments presents FEELING GOOD TIBICOS, raw vegan organic living probiotic beverages lovecrafted in micro-batches in the forests of Daylesford. Based in pure Daylesford mineral and rainwater, these slow cultured, naturally fermented healing tonics are unpasteurised, extremely low in sugar and nutritionally dense. Formulated by Dr. Miin Chan (MBBS, BMedSc) and handmade from start to finish with no mechanisation. Dr Chan supports local organic Central Victorian farmers by using their produce in their products!
Effervescently delicious and packed full of live Lactobacillus, beneficial yeasts, vitamins, minerals, organics and easily digested nutrients. Perfect for happy guts, keeping those seasonal bugs at bay and mental stimulation! Loved by those with the symptoms of IBS, IBD, leaky gut or an uncomfortable gut after a big night out :)
As these are naturally made products, each bottle is unique! Open with awareness, and remember that fizziness will change from batch to batch. Keep refrigerated at all times, unless you want more fizziness in your brew! 1.15% natural alcohol at bottling due to the fermentation process.
Made in Melbourne.