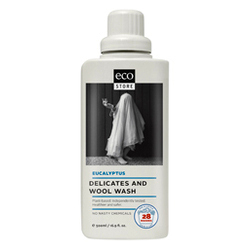 Ecostore Laundry Liquid Delicates & Wool 500ml
$9.95
Cleans and protects fabrics such as lace, merino and silk as well as black garments. Suitable for hand or machine washing in top or front loaders.
Eco Store use plant and mineral based ingredients wherever possible in their formulations, which means their pH balanced detergent is not only an effective cleaner, it is also kinder to your skin and suitable for those with sensitive skin or allergies.
Performance: Eco Store Delicates and Wool Wash has been independently benchmarked against the market leader to ensure excellent results.
Use a little, save a lot- Delicates and Wool Wash is safely super concentrated with no unnecessary fillers or bulking agents to give the perception of better value.
The ingredients used in Eco Store Delicates and Wool Wash are safer for the environment. With proper greywater systems in place the water from your machine or hand-wash can safely be re-used on your flower gardens, lawns and trees.
Made in NZ to the strictest environmental standards in Eco Store ISO14001, Enviromark Diamond and CarboNZero certified factory.
www.ecostore.com.au